QR Code Wine Labels
Occasionally we have orders come in with QR Codes included on the wine label. These codes are excellent for businesses and individuals who want to provide an easy and efficient way for recipients to link directly to a company website, email address, or even an online video.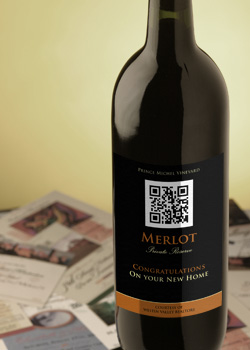 With a simple scan of the label through a smartphone camera, the viewer is instantly directed to whatever site or address is embedded in the code. Even better is that there are a variety of websites that provide these QR Codes free of charge!
If you are a real estate agent looking for a smart way to direct buyers to your website, or even a bride wanting to direct wedding guests to an online photo album, QR Code Wine Labels are an excellent option.
For custom image wine labels that support adding QR Codes, see our Add a Photo/Logo category.